Fact Checked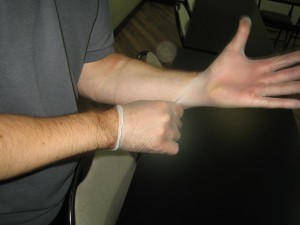 Being prepared in an emergency is a key part of any first aid course. However, being preprepared can be confusing. Here's our top 9 list of things you need for first aid and why.
A Watch:
In order to take a proper pulse, you must have a watch with a second hand and you must take the pulse for at least 15 seconds, if you don't take the pulse for this minimum amount of time then you may not catch a very slow beating heart.
Gloves:
Your personal protection is very important and thus you should always carry a pair of gloves.  Ideally you would want latex free gloves as there is a growing population of people that are allergic to latex.
Face Mask:
A disposable face mask is cheap and will allow you to give breaths while doing CPR and still protect you from any potential diseases that the patient may have.  The face must be disposed of after use or sterilized appropriately.
A Marker:
Need to quickly write down the patients allergies and medication?  Use a decent marker, you will be able to write on virtually any surface, even the patient, and they are very easy to obtain and carry on you.
Tensor Bandages:
Chances are that you will see sprains more often than any other injury as a first aider an a tensor bandage offers the perfect solution for this.  They are small and portable and can be used for a variety of tasks.
Triangle Bandage:
These are amazing tools and can be used to help splint, tie things down, and in emergency situations to tourniquet but only in extreme situations do you want to tourniquet someone like a femoral bleed or when medical help is hours away.
Shears:
These are amazing tools but you must be careful when using them.  Think of these as scissors on steroids so use them carefully and appropriately.  That being said, they can cut through coins and pretty much anything else so they are great for cutting off patients apparel when you need to attach an AED.  USE THESE CAREFULLY as they can be very dangerous tools.
Alcohol Wipes:
These are a luxury item and you should only really be bringing them if you have the extra room and if you have the resources to maintain them as they do expire and should be replaced frequently.
Distilled Water:
This is not your average water bottle purchased at your local convenient store because it is necessary for you and the patient that the water has been distilled so that it won't react with anything in the environment.
Carry these with you and be prepared for many of the first aid situations that you will encounter.