With six providers over five states located in the US, we have the largest selection of CPR training programs and re-certification classes available to students. Other providers can't compare with the quality of our programs and the total cost of training. No other providers in the country have better rates and better quality than our training programs.
Our training locations can be found in Los Angeles, San Francisco, Las Vegas, Honolulu, Seattle, and Portland. Visit their individual websites for more details on programs and contact info. Send us an e-mail or give a call if you have an inquiries.
ACLS training
Advanced Life Support is a concept used to describe the management of a cardiovascular disorder in a clinical or medical set up. Basic Life Support is very different from ALS , because it is a concept that focuses on the management of cardiac arrest before actual medical help, focusing instead on stabilization of the victim. ALS has two categories: ACLS and PALS. Both programs have the same curriculum structure, but the target "victim" is different between the two.
Advanced Cardiac Life Support (ACLS) deals with the management of cardiac arrest in an adult victim. It focuses on the medical management of cardiovascular disorders in a hospital or similar clinical setting. It still teaches the basics, such as chest compressions and mouth-to-mouth resuscitation but focuses on more complex skills and knowledge.
ACLS training teaches students how to give CPR in a clinical setting to adult victims. Management of pediatric victims are taught in Pediatric Advanced Life Support (PALS), also an ALS program. The term pediatric refers to patients younger than 18 years of age. CPR for infants and younger children are quite different from CPR for adults.
Because trainees are taught how to use automated external defibrillators (AED), ECG readings are also part of ACLS training. ECG tracing is used to identify problems with heart rhythms and deviations from normal sinus rhythm.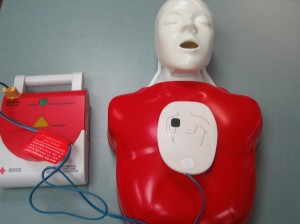 Program details:
16 hours total, completed in 2 days
Certification post-tests (written and practical test)
Re-certification available – 5 to 6 hours
Certification
Certificates are awarded after a trainee has completed all the lessons in the ACLS program and passed the set of post-tests given after. Certificates are valid for only 24 months. If the rescuer allows the certificate to expire before renewal, he or she will need to take the entire program again, as opposed to just taking re-certification. Certificates from our providers are valid all over the country.
Enrolment
There are four different way to sign up for ACLS training. The most common (and popular) way is over the provider websites. These websites have online application forms that are available throughout the day (24/7). Applications can be sent through e-mail or over the telephone as well. Expect your applications to be processed during business hours only. Enrolment in person is highly encouraged by the staff.