Fact Checked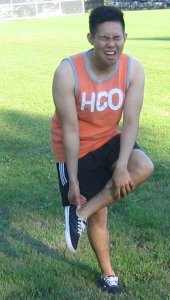 The difficulty in lifting the front part of foot, or pain on lifting the foot upwards is known as the drop foot. The people with the drop foot cannot raise the front portion and drag the foot while walking. It is usually a clinical sign of some serious pathology going inside the body. The nervous system problem causes the drop foot more often. In some cases, the problem is temporary and drop foot gets cured on itself, but in some cases it becomes a permanent disorder and causes much discomfort. Some external support is required to keep the foot in normal position in such cases.
Also known as 'drop foot', it can occur at any age and may involve both feet in some cases. The treatment given is usually symptomatic.
Symptoms of foot drop:
The main signs and symptoms of foot drop are:
Difficulty in lifting front portion of foot
Dragging of foot or feet while walking
Raising thigh while walking
Steppage gait
Numbness of skin on top of foot
What causes foot drop:
Foot drop is not a disease itself; rather it is a sign of some other disease. It may become permanent in some cases. It is manifested in many neurological problems. The main causes may include:
Brain problem
Nerve damage (most common)
Muscle disorders
Nerve supply is an essential thing for the maintenance of any body part. If nerve supply gets cut, the body part fails to act and gets destroyed as it is disconnected from brain. The nerve supply to foot comes from peroneal nerve, which is superficial and can be damaged easily and may result in foot drop. Sports injuries, knee surgery, delivery of a child or diabetes can cause the nerve damage. The problems in roots of nerve, that is the spinal cord, can also cause this problem.
The problem of brain like MS (multiple sclerosis), stroke, and cerebral palsy and Charcot-Marie-tooth disease can also result in foot drop.
Muscles are responsible for moving the feet up and down and any change in muscles also results in foot drop as movements are hampered. The weak or destroyed muscles cannot cause the foot to move and paralysis of that specific part occurs. Dystrophy of foot muscles, polio, Lou-Gehrig's disease and many other problems can precipitate this problem.
Treatment options for Foot drop:
Addressing the underlying cause and removing it usually causes the foot drop problem to vanish. The immediate thing to do when this problem is encountered is to cure the symptoms and provide the relief. Following options might be helpful:
Wearing light weight braces keeps the foot at the normal straight position and helps during walking and avoids the foot dragging.
Specific shoe inserts are also helpful to provide the support to foot.
Taking certain exercises to help foot muscles to attain strength is very useful. A physiotherapist should be consulted for proper guidance in this regard. Some devices are now used to stimulate the muscles and get them back at normal work.
If problem persists after conventional methods, the surgery is performed to remove or repair the damaged nerve.