American CPR courses have become quite popular because of the recent disasters that plague the country and around the world. Being trained in CPR means that you are capable of handling a cardiovascular emergency, particularly cardiac arrest. CPR training programs are offered in our six locations, all six with the same programs and giving trainees certificates upon completing the program.
Sign up to the program that you want to enrol in is quite hassle-free. There are online application forms available that you can fill out at any time. Applications can also be sent at any time, however, expect a reply during business hours only. The same goes for applications over the telephone and enrolment in person.
CPR credentials
CPR training certificates have a validity period of two years. They can be used all over the country during that period. Once they approach expiration, they can be renewed through a re-certification class. Re-certification programs only accept certificates that are still valid. If the certificate has already expired, the rescuer will need to retake the program.
CPR programs
There are two categories that training programs are sorted into, either Basic Life Support or Advanced Life Support. There are total of five training programs are three re-certification classes offered by our providers. All of these classes give trainees certification once they are completed.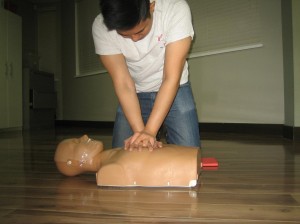 Basic Life Support
Basic Life Support teaches the management of cardiac arrest before the arrival of emergency medical help (EMS). The class is focused on the proper way to give chest compressions and rescue breaths, as well as defibrillation using an AED (automated external defibrillator). AEDs are machines that can detect heart rhythms and supply the heart with electrical shock.
Heartsaver CPR – This program is for the general public and lasts four hours. It teaches 1-person CPR rescue, a few first aid skills, and how to use and AED. The skills test given at the end of the program is optional; students can choose not to get certified.
Heartsaver CPR (C) – This program is for healthcare providers (HCPs) and students studying allied health.  It also teaches the same topics as Heartsaver CPR but tailors them for people who are familiar with healthcare topics. The post-tests are mandatory (skills and written exams), with the program running longer at 4.5 hours.
Basic Life Support – This program is for healthcare providers as well, and runs for 4.5 hours. It teaches the 2010 BLS guidelines from the AHA, and both 1 and 2-person CPR. Basic first aid and AED training is still part of the program.
Advanced Life Support
ALS programs deal with medical management of cardiac arrest and other cardiovascular disorders. It teaches students about the crash cart which contains equipment and medication used when answering a code. There two ALS programs, one managing adult victims and the other for managing pediatric victims.
Advanced Cardiac Life Support (ACLS) – ACLS programs teach how to handle cardiac arrest in an adult victim, adult assessment, and pharamacological dosage and indication for adults. This runs for over 16 hours, over two days. Re-certification : 5-6 hours
Pediatric Advanced Life Support (PALS) – PALS has the same curriculum structure as ACLS, but for pediatric patients. It runs for 14 hours, over two days. Re-certification: 6-8 hours