What is BLS?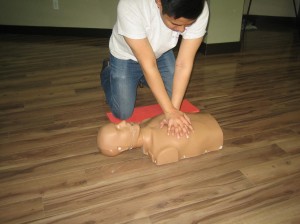 Basic Life Support was a concept that came into being in the 1900s, after mouth-to-mouth resuscitation and chest compressions had been proven effective in the years before. BLS is used as guidelines when giving CPR to a victim of cardiac arrest. Basic CPR skills – compressions and rescue breaths- are used to keep the heart pumping oxygenated blood to the rest of the body and to try and restore spontaneous beating of the heart. BLS differs from ALS because the latter focuses on medical management of CV problems in a clinical setting.
How do I get certified?
Rescuers become certified after they finish all of the classes in the program they signed up for and pass the set of post-tests given at the end of the program. Post-tests consist of a skills test and a written exam, except for the general public program that just has an optional skills test at the end of training. Once all of these requirements are met, students receive CPR training certificates valid for two years.
Can I renew my certificate?
Yes, you can. Certificate that has not expired but is approaching the end of its validity period can be renewed for two more years in a re-certification class. If the rescuer's credential has expired, the training program will have to be taken again instead of just a re-certification class.
What BLS programs can I enrol in?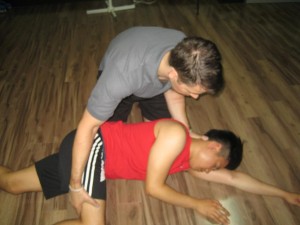 There are three BLS programs available at our providers, with one re-certification class. Only one of the three programs is for the general public, the rest are for healthcare providers (HCPs) and allied health students.
Basic CPR and AED training – This is the general public class. It is four hours long and teaches trainees about single-person CPR, first aid, and AEDs. The skills test at the end of training is optional. No re-certification available for this program.
Basic CPR and AED training (C) – This is the HCP version of the basic CPR curriculum. Single-person CPR rescue, first aid, and AED training is included in this program. It is longer, 4.5 hours, with mandatory post-tests at the end of training. No re-certification is available for this program.
Basic Life Support for HCPs – This is also 4.5 hours long and only for HCPs. It teaches 1 and 2-person CPR rescue, on top of AED and first aid training. It also teaches the 2010 Basic Life Support guidelines from the AHA. Re-certification is offered for this program (4 hours).
How do I enrol?
The most popular way to enrol in a program is through the online application form on the provider websites. The form can be accomplished at any time but they will only be processed during business hours. Same goes for applications sent over e-mail. Walk-ins and telephone calls are encouraged, but please conduct your business during normal operating hours.
Become a trained rescuer today. Enrol in any of our providers.