Fact Checked
Acute otitis media is an infection in the ear that is caused by viral or bacterial infections that affect the middle ear which is the space filled with air found at the rear of the eardrum that includes the miniature vibratory bones of the ear. Children are more susceptible to these infections than adults.
Ear infections are painful due to the inflammation and the build-up of fluids found in the middle ear. Issues related to ear infections, constant fluid in the middle ear, recurrent infections can result to problems in hearing and other complications. By enrolling in a class on first aid, click here.
Symptoms of otitis media in children
There is difficulty in sleeping and usually crying
Tugging or pulling at an ear along with ear pain during lying down
Very irritable and difficulty in responding to sounds
Drainage of fluids from the ear, headaches and loss of balance
There is loss of appetite and fever of 100 degrees F or 38 degrees C or higher
Symptoms of otitis media in adults
Drainage of fluids from the ear and pains in the ear
Weakened hearing
Some severe symptoms that needs immediate treatment including the following:
Pain in the ear is very severe and the symptoms lasts for more than a day
The child has difficulty sleeping and irritable after having a cold or other upper respiratory infections
Discharge of fluid, pus or blood coming out of the ear
Causes of otitis media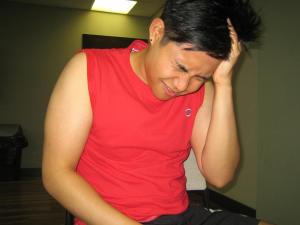 An infection of the middle ear can be caused by a bacterium or virus that results from another illness such as cold, flu and allergy that causes congestion and swelling of the nasal passages such as the throat and Eustachian tubes.
The Eustachian tubes are pair of narrow tubes that are found in the middle ear at the back of the throat and behind the nasal passages. The tubes functions in regulating the pressure of air in the middle ear, refreshes air in the ear and drains the normal secretions coming from the middle ear.
Inflammation, swelling and some mucus in the Eustachian tubes caused by an upper respiratory infection or allergy can cause blockage. There is accumulation of fluids that can occur in the middle ear and this fluid can be infected by bacteria or virus and will produce the symptoms of a middle ear infection.
Treatment and home remedies
Apply a warm or moist wash cloth over the affected area in order to minimize pain
Take over-the-counter pain medication like acetaminophen or ibuprofen in order to relieve pain
Take prescription eardrops to help minimize the pain for eardrums that are intact, not torn or perforated. You have to warm the bottle by placing it in warm water before administering drops to the child's ear. Avoid using benzocaine for children below 2 yrs. of age.
Let the affected person rest in order to help the body fight the infections and arrange quiet play activities for a child.