If you are looking for a quality certification program in Los Angeles, you have come to the right place. A CPR training program in Los Angeles CPR is affordable as it is high quality. We make sure that all are trainers are certified themselves and have undergone necessary training in order to teach CPR. Because our programs are very popular among students, we have different schedules throughout the week, sometimes during evenings and weekends if there are a lot of trainees who sign up for a particular class.
Other locations: Las Vegas, San Francisco, Honolulu, Seattle, and Portland
Ventilations: A must during CPR?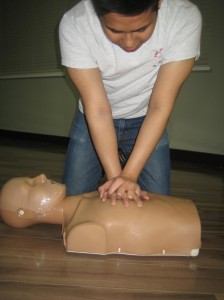 When a person falls unconscious, is not breathing normally, and cannot be roused with shaking or name-calling, immediately assume that he or she has had a heart attack and is in cardiac arrest. The logical procession of events after assuming cardiac arrest is to start CPR. However, there is a general rule when a bystander is about to perform CPR – if you are a trained rescuer, check for a pulse before calling the emergency hotline. Immediately give compressions AND ventilations after the call is made. If you are untrained, do not check for a pulse and immediately begin hands-only compressions. Push hard and fast.
Agonal respiration or gasping breaths is not considered regular or normal breathing. This kind of breathing does not oxygenate the blood, and is dangerous if ventilations are not given. As long as a person is not breathing regularly, be sure to include ventilations in your rescue. Though agonal respirations are a sign of a severe problem, cardiac arrests with them (rather than without) have better chances of survival.
CPR and first aid programs
At Los Angeles CPR, we include first aid in all our CPR classes. Basic first aid mainly involves common injuries that can be managed easily at home (or prior to bringing the person to medical attention). Common injuries and skills include:
Burn management for first, second, and third-degree burns
Wound care for bleeding injuries
Splinting for fractures and other similar injuries
Bandaging for sprains and general immobilization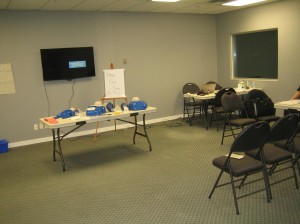 Our CPR classes are classified under basic and advanced training. We have one program available to the public (laypersons or people who don't work in healthcare/involved in health care) and the rest are for allied health providers and professionals. Programs can last as short as 4 hours and as long as 16 hours.
Basic Life Support
Basic CPR class – (general public) 4 hours
Basic CPR class C – (health care providers) 4.5 hours
Basic Life Support for HCPs – 4.5 hours
Advance Life Support
Advanced Cardiac Life Support – (professionals) 16 hours
Pediatric Advanced Life Support – (professionals) 14 hours
A special section is for re-certification classes, because we only have three re-certification classes available.
Basic Life Support for HCPs re-certification – 4 hours
ACLS re-certification – 5 to 6 hours
PALS re-certification – 6 to 8 hours