Fact Checked
This position will help an unconscious or semi-unconscious casualty to breathe and allow his body fluids to drain from the natural openings of the body such as the mouth, ears and nose so that they are not choked on while being breathed in. After you have administered first aid and have completed everything in the emergency action plan that comes before treating unconsciousness, move the person so that he rests in the recovery position while help is on its way.
Do not allow the person to rest in the recovery person—in fact, do not even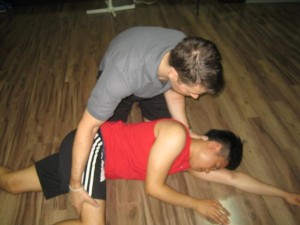 move him if the injury has affected the neck, spine or hip areas.
How to place your victim into the Recovery Position
For adults, follow these steps to move the casualty to a recovery position:
Allow the casualty to rest on his back. Kneel down beside the casualty and position the arm closest to you, extended straight out from the casualty's body. The arm should make a 90 degree angle with the person's back.
Move the arm that is farthest from you so that the back of the casualty's hand is placed next to his cheek that is near you.
Grab the casualty's knee that is farthest from you and bend it.
Secure the casualty's head with one hand and carefully, roll the casualty over by pulling the knee you just bent towards the ground.
Tilt the head slightly to permit the airway to open.
Make sure that the casualty's far hand is under his near cheek. The other arm should remain extended.
Cover the casualty with a blanket so that he is kept warm (unless he is suffering from a heat illness or fever). Stay with the casualty until medical assistance has arrived.
For infants, the recovery position is different. Follow these steps:
While carrying the infant, make sure he is face down on your arm.
Tilt the baby gently so that his face is lower than the body.
Secure the baby's head and neck with your hand and make sure the mouth and nose are clear.
Wait until help arrives.
More Information
To learn how to place a victim in the recovery position or how to manage unconscious patients in a variety of circumstances using "hands on" training enrol in a workplace approved first aid course near you.
Related Video to Recovery Position
Was this post helpful?
Let us know if you liked the post. That's the only way we can improve.