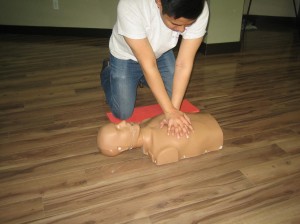 Over half a million people die every year in North America from cardiac arrest. Without quick intervention from trained individuals in first aid and CPR, the chances of recovery are almost zero. However, with training from workplace-approved standard first aid courses, the chances of recovery are significantly raised. Standard first aid is one of the most comprehensive courses that St Mark James Training has to offer.
CPR Training Included in Standard First Aid
It also includes the most comprehensive and detailed CPR courses. Participants have the opportunity to select from a variety of CPR levels to partner with the course. CPR level "C" comes standard with this first aid course as candidates will learn to do CPR on an adult, child, and infant victims. Candidates can opt for a lower level CPR such as CPR level "A" in which candidates will only learn CPR techniques for adult and child victims. Candidates can also opt for a higher level of CPR certification such as CPR level "C" for health care providers.
Workplace Approved Certification Awards
All standard first aid courses, if provided through a credible provider, meet Health Canada regulations and standards. Certificates last for 3 years and re-certification courses are available to candidates that want to renew expiring or expired awards. The average standard first aid class takes approximately 16 hours but it is dependent on the skill level of the class, the province in which the course is provided, and ultimately the workplace-approved instructor teaching the course. Included in the training is knowledge and skill in the use of automated external defibrillators (AED) which drastically increase the chances of survival for patients that require CPR. Learn a variety of skills and comprehensive first aid and CPR by taking a standard first aid course. To register for a class view our standard first aid course location page. This website will outline the topics covered in the course and some additional information for the advanced rescuer.
Standard First Aid Course Content Includes:
CPR level "C" or CPR level HCP (Candidates can opt for CPR HCP training at some locations)
St Mark James Training
Check, Call and Care system.
The Principles of first aid.

Candidates enrolled in standard first aid will learn CPR and how to use an automated external defibrillator (AED)

Legal implications of first aid – Understanding the "Good Samaritan Act"
Self-protection – Prevention of disease transmission.
Activating EMS
Scene assessment – Hazard checks and self-protection.
Management of Bystanders
AED training.
Respiratory emergencies include asthma, hyperventilation, anaphylaxis, and aspiration.
Shock
Major Bleeding
Heart Attack
Angina
Stroke / TIA
Soft Tissue Injury
Facial Injury
Burns (1st, 2nd, and 3rd degree)
Abdominal & Chest injury – includes punctured lungs.
Bone & Joint Injury
Head & Spinal Injury – Immobilization techniques.
Environmental Injury (includes hypothermia, heat exhaustion, heat cramps, and heat stroke)
Seizures
Poisonings
Diabetic Emergency – Hypoglycaemic and Hyperglycaemic
Land Carries and assisted carries.
Critical incident response management
Length of the Course:
The length of a standard first aid and CPR "C" course is approximately 16 hours (varies depending on provincial regulation). This course is usually completed within two days. Some locations offer the course for three and four days.
Certification:
Upon completion of the course candidates will receive a workplace approved standard first aid with CPR "C" or CPR "HCP" and AED certification that is valid for up to 3 years. Certification is a nationally accredited award that can be used throughout Canada.
Cost of Course:
We offer the cheapest course in your region. Our standard first aid with CPR level "C" course varies from 100 to 130.00 dollars depending on your area. The cost of the course includes workplace approved certification fee, a first aid manual, and all applicable taxes. No hidden fees in our course prices.
Locations:
We offer standard first aid and CPR courses throughout Canada at convenient and comfortable locations. We have the cheapest courses and we strive to never cancel a class. We understand that being certified is important to you so we try to never cancel a class. We cancel less than 1% of our courses each year. To register for a course select your location from the sidebar and fill out the registration form to guarantee yourself a spot in the class. If you have any questions or concerns please feel free to ask our training partners.