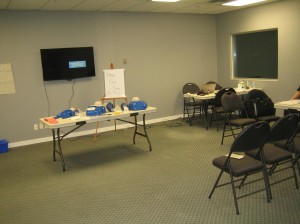 We partnered with Edmonton First Aid to deliver outstanding standard first aid training courses in Edmonton. The company is popular for its affordable training prices and great client care. It is one of the leading training providers in the area. Classes are provided all throughout the week in different classroom locations. Classes include private courses for groups of any size and re-certification training for participants that meet required prerequisites in order to renew expiring awards. At Edmonton First Aid, customers can rest assured that they will be taught by the best CPR and first aid training instructors. To register for a standard first aid course in Edmonton, Alberta uses the course registration form available below. Established in 2008, Edmonton First Aid Ltd has grown through the years. The company now has 4 training centers in the Edmonton region. Candidates can register for workplace-approved standard first aid courses or take private and re-certification courses in standard first aid. Customers have the option of selecting CPR level "A", "C" or "HCP". For more information, you may visit the website of Edmonton First Aid Ltd.
Location and Registration Information
You may contact Edmonton First Aid Ltd through the following details:
For more information about the Edmonton First Aid South training location, view the map below. View Larger Map
For more information about the Edmonton North training Centre please view the map below:
CPR Level's Partnered with Standard First Aid
Edmonton First Aid offers candidates the option of choosing CPR and AED levels which are "A", "C" or "HCP" (CPR level "C" is for health care providers)  to opt for the standard first aid course. All CPR/AED classes follow the newest and highest standards when it comes to cardiopulmonary resuscitation education. Classes may vary in duration depending on the standards of CPR/AED training added to the class. Participants can also combine Basic Life Support CPR with there standard first aid course. Visit the website for more information or to register.
Lowest Costs in Edmonton
The cost of classes given by Edmonton First Aid is truly competitive. The company has the lowest-priced training/classes in the area. The company believes that inexpensive courses should be accessible to all. The list prices for popular courses offered by Edmonton First Aid are listed below:
Workplace Approved Standard First Aid, CPR, and AED (Popular 2-Day Course) – 132.99
Workplace Approved Emergency First Aid, CPR, and AED (Popular 1 Day Course) – 89.99
Workplace Approved Standard Childcare First Aid, CPR, and AED  (Mandatory 2-Day Course for Childcare Workers) – 135.00
All course prices include taxes and manuals.
Workplace Approved First Aid and CPR Certification
When candidates pass the training course, they will be given Alberta OH&S workplace-approved first-aid and CPR certificates which are valid for 3 years. These certificates are accepted all throughout Canada. It satisfies legislative standards set out in CSA standards set in 2017 and later updated in 2020.
Who Needs Standard First Aid Certification in Edmonton?
The following employees are required to be certified:
Teachers
Safety Workers
First Aid attendants
Hospital Workers
Caregivers
Oil and Gas Workers
Miners
Construction Workers
Dentists
Doctors
Students
Lifeguards
Managers
Government Employees
Massage Therapists
Restaurant Managers
Police Officers
This is only a brief list of some of the individuals that are required to be certified in this two-day course.
No Hidden Fees or Surprise Costs
Edmonton First Aid participants are assured that there are no hidden fees. The prices are all listed online with no additional fees presented afterward. Training centers are comfortably situated throughout the region. Aside from neat classrooms, the training locations are all conducive to learning.
Easy Course Sign Up
Interested participants may register via different methods. You can easily enroll via online registration which is fast and simple. You may also choose to register via the phone or through e-mail. Someone will always be available to assist you once you decide to call Edmonton First Aid's office.
Standard First Aid Renewal and Private Classes 
Edmonton First Aid also provides participants with renewal and private classes. Private classes are readily available for individuals, classes, or companies at various rates. You may contact Edmonton First Aid at [email protected] for additional information. Standard first aid renewal courses are available at least once a week in all of the training centers. All re-certification courses include CPR and automated external defibrillator (AED) certification. This service provider is known for good quality classes and up-to-date equipment. With Edmonton First Aid, you are assured of affordable prices,  excellent instructors, and the latest first-aid, cardiopulmonary resuscitation, and automated external defibrillator (AED) practices and standards.
Did You Know? – The Latest Changes to CPR
CPR techniques were invented in 1960. Although, standard practices were just set recently. Currently, changes are made approximately every 4 years to upgrade the methods of cardiopulmonary resuscitation based on research. The committee responsible for research is known as the International Liaison Committee on Resuscitation (ILCOR). They have been updating CPR standards approximately every 4 years ever since 2000. This organization adheres to all the recommendations provided by ILCOR. These updates ensure that candidates receive the most efficient techniques in CPR and artificial respiration. To learn more about the latest standards, enroll in a training course with one of our providers today.