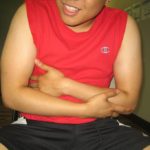 Diarrhea is a condition where an individual has increased frequency of bowel movements, usually brought about by an infection in the stomach. Generally, the common causes of this are eating contaminated food and water. In addition, diarrhea is more common in places where hygiene is poor and access to medicine is difficult.
Diarrhea lasts for a few days only, in most cases but diarrhea can last for weeks which indicate that there is a more serious problem.
Microbes such as bacteria, viruses, and parasites embedded in foods and water are the most common causes of diarrhea. Places with poor hygiene or improper handling or preparation of foodstuffs can cause food to be contaminated by these microbes. To prevent this, foodstuffs must be carefully handled and must be prepared in a clean environment.
What are the causes?
Eating contaminated food or water
Diseases that cause chronic episodes such as Crohn's disease
Food that upsets the digestive system
Diabetes
Allergies to certain food
Medication
Diseases that cause dysentery
Characteristics
At first, frequent loose and watery bowel movements
Abdominal cramps and pain
Nausea
Fever
Bloating
Presence of blood in the stool
When is the right time to see a doctor?
When it lasts for more than two (2) days.
Fever higher than 39 Celsius for more than a day.
Constant nausea or vomiting that prevents you from drinking fluids to replace lost fluids.
Severe abdominal pain.
Presence of blood in your stool.
When you have signs of dehydration.
Treatment for diarrhea
Replace lost fluids by drinking more fluids or intravenously if oral intake is not possible.
Oral rehydration salts can be used to replace lost fluids and salts to help rehydrate a person.
Over-the-counter medications such as Imodium can help reduce the frequency of bowel movements.
Antibiotics, but only must be used if the diarrhea is caused by bacterial infection.
FACT CHECK
https://medlineplus.gov/diarrhea.html
https://www.medicalnewstoday.com/articles/158634.php
https://www.mayoclinic.org/diseases-conditions/diarrhea/symptoms-causes/syc-20352241