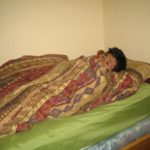 A fever is an increase in the body temperature from the 37 degrees. This is caused by an immune response as this is the body's natural mechanism of defense against infection from microorganisms such as bacteria, viruses, or parasites that cannot live or survive in higher temperatures.
Fevers are also symptoms of illnesses along with other symptoms like a cough, sore throat, fatigue, chills, nausea, and much more.
Fevers that have temperatures lower than 38 degrees Celsius is considered as a low-grade fever and should normally go untreated.
However, fevers with temperatures above 40degrees Celsius are dangerous and requires immediate home treatment and may possibly require medical attention as it can develop more severe symptoms such as delirium or convulsions.
Accompanying symptoms
Increase in body temperature
Sweating
Dehydration
Loss of appetite
Chills and shivering
Weakness
To determine your body temperature, you can use a thermometer on several parts of the body to take your body temperature. There are several types of thermometers, these include oral, rectal, ear and forehead.
You can also check your body temperature by placing an oral thermometer into your armpit.
When to consult a doctor
Fevers alone are not a cause for alarm or a reason to schedule a checkup with your doctor, though there are cases where you need to do an appointment with your doctor, these include:
The fever lasts longer for more than three (3) days.
The fever developed after being left in a hot car.
Persistent vomiting.
You get convulsions or seizures.
You experience abdominal pain or pain while urinating.
Confusion
You suddenly have a sensitivity to bright lights.
Causes of fever
A virus
A bacterial infection
Heat exhaustion
A tumor
Some medication such as antibiotics or drugs used to treat blood pressure or seizures
Since fevers are due to infections, the best way to prevent them from happening is to keep your environment clean and reduce your exposure to infectious diseases.
FACT CHECK
https://www.medicinenet.com/aches_pain_fever/article.htm
https://www.medicalnewstoday.com/articles/168266.php
https://www.mayoclinic.org/diseases-conditions/fever/symptoms-causes/syc-20352759